87,677.71
This piece is part of a series of paintings comprised of various receipts, invoices, and academic archives which were collected over the 4-year span of the artists' college education. After completing his major Joshua Hashemzadeh aggregated all of these documents and totaled their financial sums, resulting in the number revealed in the work.

When looking at the carved numerals in this painting viewers can consider the almost crippling financial cost of higher-education as well as the social and economic privileges of those able to obtain it. The work then becomes a haunting reminder of the impact of institutional debt in the United States while questioning the fiscal validity of the art object altogether.
BFA
The work, BFA, was originally displayed during the artists' 2015 undergraduate show at the San Francisco Art Institute's famed Diego Rivera Gallery. Having majored in painting, Joshua Hashemzadeh presents the viewer with a focused viewing of printed currency while simultaneously demoting the "hand-painted" frame to a mere tool of preservation. The piece stands as a satirical interpretation of the fabled histories of the arts institution, and critically notes the growing focus on monetary value as a measure of artistic excellence.
The works value is estimated in relation to the "buying-power" of one- hundred -dollars in 1871, the year the artists' alma mater was founded. "BFA" interprets monetary inflation as a allegorical depiction of institutional merit. One is pressed to consider the intentions of pedagogical establishments, as it's "Something that is becoming less and less valuable yet demands a continuous turn of students to try preserve its original worth."
Balance
Utilizing industrial materials such as cement, plaster, lumber, and shredded currency, the artist constructs a work that literally depicts his educational debt as a reflection of his experience while in a pedagogical institution. A transaction where money is exchanged for the coming-of-age nostalgia associated with college rather than academic rigor or occupational advancement.
Its title, Balance, plays on language creating a double entendre. The first meaning alludes to an autobiographical depiction of ones' financial balance. And the second depicts the psychological weight of debt as physical mass which literally ballances precariously on its industrial foundation.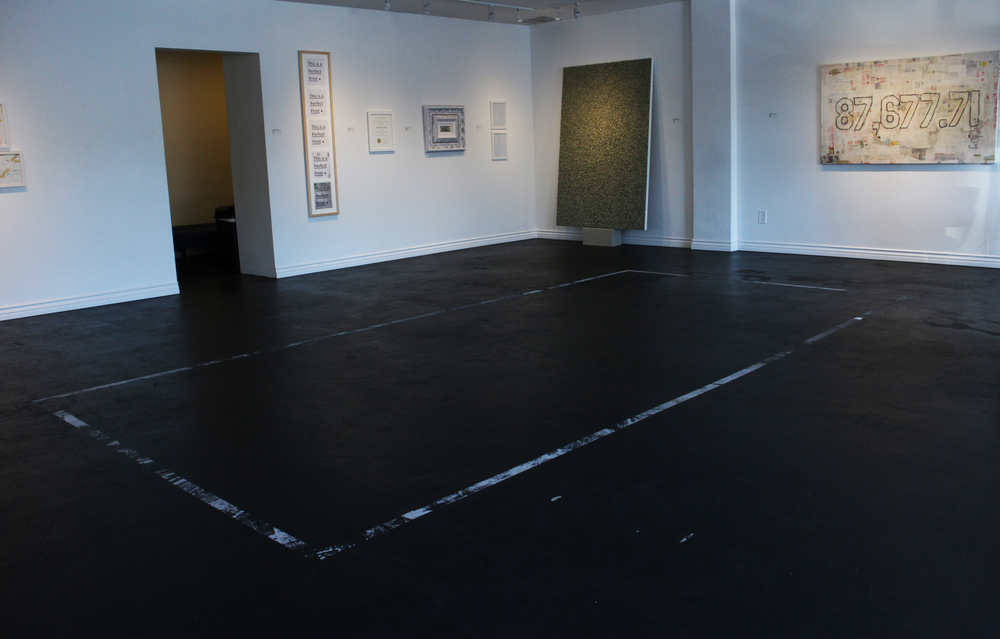 Homage to the Educational Complex
Arranged to the dimensions of the late Mike Kelley's work, the "Educational Complex," thissite-specific installation aims to reimagine Kelley's recollections of educational spaces as a place of psychological fabrication. Keeping with the works original spirit of viewer interaction, this permeable rectangle invites viewers to walk through it while reflecting on their own moments of educational growth, nostalgia, and trauma.
How have my surroundings and educational settings influenced who I am and what I know? Do the people inhabiting a given space share eaqual merit? Is ones' perception of merit and worth something that's ideologically constructed?
Joshua Hashemzadeh contemplates these questions when analyzing notions of industrialized learning and the archetypes associated with those who possess or lack certificates of accreditation.